Greater Sacramento Area Park Weddings
"Nature gives to every time and season some beauties of its own."
– Charles Dickens
Park Weddings
The idea of having a wedding in a park may bring to mine different visions to different couples. Planning a wedding in a park can be as simple as having your wedding in one's own neighborhood park or as elaborate as a wedding in a national park such as Yosemite. Couples may plan their wedding for a park for a number of different reasons.
The cost-conscious couple may be looking to a park as a way to minimize the wedding budget but this isn't necessarily always the case. Couples may plan their wedding in a park simply because they love the outdoors and parks are usually situated in picturesque, scenic locations. Often times parks hold some sentimental value to couples. Couples may have spent time in a local park while they dated and they grew to know each other more intimately.
Local parks often have picnic benches and gazebos already in place making a ceremony very easy for couples. As wedding photographers in Sacramento, photographing a wedding in a park can be a unique challenge. It's our job to make any wedding we photograph look as special as possible. This means that even if a wedding does take place in a park with picnic benches we will strive to create images that are as artistic as any that we could create at the most exclusive venues.
Romantic imagery can easily be created in most public parks. Couples considering having their wedding in the park should rest assured that any photography that takes place at a park will look just as spectacular as any venue. It goes without saying that there are many parts throughout the Sacramento region so just a few of the more notable parks will be mentioned. Also, it should be noted that if planning a wedding in a park one should consider whether a permit or reservation would be necessary to reserve your ceremony/reception spot or location.

Capitol Park Rose Garden
A Capitol Park Rose Garden wedding is one of the most popular locations in Sacramento for a park wedding. With over 600 rose bushes and well over a hundred varieties the Capitol Park Rose Garden cannot be beaten as one of Sacramento's most beautiful ceremony site locations.
Guests typically sit within the garden itself as couples say their nuptials near the center fountain or gazebo. The park can't be beaten when it comes to a location for wedding photography. With beautiful flowers, large old-growth trees, and the Capitol building as a background couples will enjoy a variety of different looks to their wedding day images. In addition, surrounding the park or there are a number of wonderful restaurants and reception locations.
Couples who wish to hold a larger wedding are able to use the extensive grounds near the Rose Garden for their ceremony site. It should be noted that there is no charge to have a wedding in the Rose Garden but a permit is required. Permit applications must specify the location that couples wish to reserve with May through September being the busiest time. All permits are issued on a first-come-first-serve basis.


McKinley Park Rose Garden
Another park known for its Rose Garden in Sacramento is McKinley Park which schedules approximately 50 weddings per year, and is located at 3239 H St, Sacramento, CA 95816. Just as with Capital Park the summer months are the Park's busiest months for weddings. Couples wishing to marry in McKinley Park should note that there is a cost associated with reserving your wedding date and that couples are responsible for bringing in all chairs and decorations that they may want at their ceremony site. McKinley Park weddings can be as large as 200 guests. As with Capitol Park, McKinley Park offers a variety of different backgrounds for wedding photography has couples travel throughout the park.
If you love the park but already have your wedding venue, this setting can be perfect for your engagement session.


Sacramento Zoo
William Land Park is just off of the I-5 freeway in Sacramento. Located inside of William Land Park you'll find the Sacramento Zoo which makes a most unique location for a wedding. The Sacramento Zoo is a wonderful location for couples who love animals and nature and or want their wedding to be a truly unforgettable event. The zoo can accommodate up to 200 guests for an outdoor reception and also has two indoor locations which can accommodate 60 to 100 guests respectively. The Sacramento Zoo becomes a wonderful backdrop to any wedding photography with lush trees and rustic woodwork, romantic imagery is easily made. Photographing at the Sacramento Zoo can be best described as magical.
Yosemite National Park
No discussion of park weddings would be complete without mentioning the possibility of having your wedding at Yosemite National Park. Yosemite National Park is not necessarily in the Sacramento region (its 145 miles from Sacramento), but, as its such a spectacular location it should be mentioned as a possibility to any couple considering a park wedding.
Yosemite is perhaps one of the most magical nature locations located in the United States. Within Yosemite National Park there are a number of different sites worth consideration. Glacier Point, Bridalveil Fall, Yosemite Falls, Tunnel View, El Capitan, Tuolumne Meadows, Olmsted Point, and the famous Ahwahnee Hotel are all sites that will leave you and your guest breathless.
Yosemite National Park is a spectacular wedding location for nature lovers and a wedding site in which the most amazing wedding photography can be made. Small or micro weddings can be staged at any number of locations throughout the park while large weddings are an exceptional fit to be hosted at the Ahwahnee Hotel. Be sure to check the park's permit requirements before planing your event.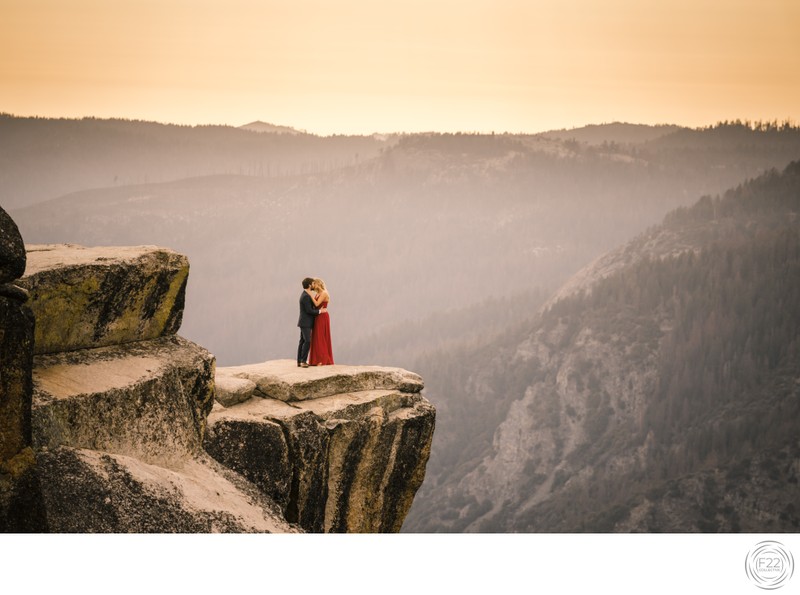 F22 Collective © 2022 - (916) 761-8666 Address: 165 Sierra View Drive, Colfax, CA 95713 info@f22collective.com Privacy Terms of Use