Greater Sacramento Area Mountain Weddings
"Pursue some path, however narrow and crooked,
in which you can walk with love and reverence."
– Henry David Thoreau


Mountain Weddings
For many couples, a wedding venue that is located in nature might best represent the love that they feel towards each other. When talking with couples about their wedding day photography we often are told how our couples enjoy the tall trees of the mountain areas. Many of our couples are very tuned in with nature and love the outdoors. Hiking is often a vacation time passion with our couples and we love showing this relationship with nature in our photography. A venue with spectacular views and tall pine trees is not as hard to find in the Sacramento region as one might think.
The foothills of the Sierra Nevada mountains are just a mere thirty miles away from downtown. A venue with spectacular mountain views is just that close to downtown but even more options lie just a little farther up the hill. South Lake Tahoe is approximately 85 miles away from Sacramento and has numerous wedding venues of which mountain views and tall pines are just a little of what these venues can offer couples and their wedding guest.
Without question, the Lake Tahoe region is one of the most recognized areas in the United States for people who love the outdoors. Amazing views, beautiful weather, tall pines, and all of what the Tahoe vacation area has to offer its guests combined to make mountain weddings one of the most popular options for Sacramento couples.


The Forest House Lodge
The Forest House Lodge is located In the foothills of the Sierra Nevada mountains just outside of Auburn California. This local wedding venue offers one of the most spectacular views of any wedding site located in northern California. Tall Ponderosa pine trees surround a grassy clearing at Grand Sierra Point. This magical wedding site offers its clients breathtaking panoramic views of the Sierra Nevada mountains in front of which couples perform their nuptials. Once the ceremony has ended and the wedding party begins, it takes place in a rustic mountain lodge which has been thoroughly re-designed to hold such an event.
The Forest House Lodge is unique in that it hosts Its own salon in which brides typically get ready. Other unique elements of the Forest House Lodge include its large downstairs after party room complete with numerous games and couches for people to enjoy. Along with its lobby room bar, the lodge also has a number of rooms that can be blocked out for your wedding day guests to stay the night. The Forest House Lodge is an all-inclusive venue that has every amenity couples might enjoy. Most importantly their wedding site is one of the most impressive dramatic sites located on an edge in the foothills of the Sierra Nevada Mountains.
Northstar Weddings
Located in California, Northstar ski resort is a spectacular place at which to hold a wedding. Situated between Truckee California and the north shore of Lake Tahoe, Northstar Ski Resort has everything a wedding couple might want. This rustic hotel resort-style venue is the perfect place for your guests to stay. The hotel offers easy transportation to and from Lake Tahoe as well as providing its guests with a number of outdoor activities of its own.
While guests will enjoy their accommodations located at the base of the mountain most ceremonies will take place at the eight thousand foot level where is Zephyr Lodge is perched. This lodge is only accessible by gondola and open chair lifts. The wedding site has remarkable views of Lake Tahoe as well as Tall Pines which your guest will enjoy as you tie the knot. This venue is available mid-June through the end of September and can accommodate up to 300 guests. Without question, the mountainside and sunsets around Zephyr Lodge help to make the wedding photography of our couples extremely dramatic as well as romantic.
Weddings at Sugar Bowl
Another wedding ski resort venue in the mountain region of the Sierra Nevada which is located in California is Sugar Bowl. Just a top Tahoe's Donner Summit, Sugar Bowl offers exceptional intimate weddings. Originally founded in 1939 the ski resort has a tradition of weddings that are rooted in its rich history. The site has numerous opportunities to photograph couples romantically walking through its flower-covered meadows and hilltops as well as adventuring on to its rocky mountain ledges. With its intimate wedding site and mountain top lodge for receptions, Sugar Bowl is a treat at which to photograph. Guest will enjoy their stay at Sugar Bowl as there are many activities in which guests can participate.
Edgewood Tahoe Resort
Situated directly on Lake Tahoe, at 100 Lake Park Stateline, Nevada Edgewood Tahoe Resort has become a top-rated location to hold a wedding. While Edgewood Tahoe Resort doesn't have the mountain views that other Tahoe venues may have, in exchange it offers it's guest breathtaking lakefront accommodations. Edgewood Tahoe Resort is also most notably adjacent to its world-famous 18 hole golf course. Located on its property is a 154 room Lakeside Lodge where guests will be well-taken care as the lodge offers everything including a spa and numerous dining options.
The wedding venue has two ballrooms of different sizes both with spectacular waterfront views. Weddings can be held year-round at this venue which is something that not all ski resort venues provide. The lake offers opportunities for extraordinary romantic wedding day images which are enhanced at sunset. The golf course and surrounding lush property make for the perfect backdrop to any photographic scene. Definitely one of our favorite venues at which to photograph.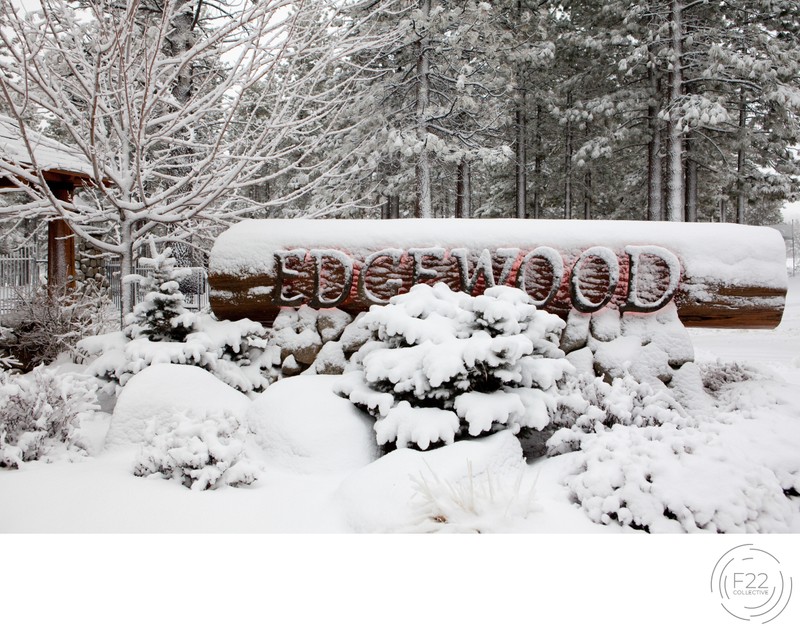 The Ritz Carlton Lake Tahoe
One of Tahoe's' newer resorts is the Ritz-Carlton at Lake Tahoe. Just the name Ritz-Carlton gives you some idea of what this venue is like. An exclusive unique venue at which couples can enjoy the mountain scenery of Lake Tahoe. Without a doubt, the Ritz-Carlton at Lake Tahoe is quickly becoming one of our favorite venues at which to photograph. Weddings can be held throughout the year and winter weddings are especially a spectacular event. The resort has all your guests could dream of and will leave no one disappointed. The Ritz-Carlton at Lake Tahoe has gone out of its way to make this the one venue that can give you absolutely everything your heart may desire. In a word, exclusive.
While this discussion of Sacramento Mountain weddings has taken us slightly outside the immediate region of Sacramento it should be noted that there are two major freeways and two local airports traveling to Tahoe. Therefore with the exception of the winter months, traveling to Lake Tahoe typically presents little to no problem for wedding couples and their guest. A mountain wedding is often romantic and beautiful and may well be worth any extra planning one may take.
F22 Collective © 2022 - (916) 761-8666 Address: 165 Sierra View Drive, Colfax, CA 95713 info@f22collective.com Privacy Terms of Use