Sacramento Hotel Weddings & Receptions

"When I look at you, I can feel it. I look at you and I'm home."
-Dory, Finding Nemo
Planning your wedding event for a hotel is another popular option for Sacramento brides. Hotels offer many advantages to couples. Most obvious is that hotels come complete with lodging for some or all of your guests. This means that there is no need to worry about your guests getting home safely after your event. Guests can simply just walk to their hotel rooms. It also means that typically a hotel wedding doesn't require a lot of traveling for your guests. When and if traveling would be required your guest could easily be transported by shuttle. Either large or small shuttles could transport guests conveniently as all of your guests would be in one location.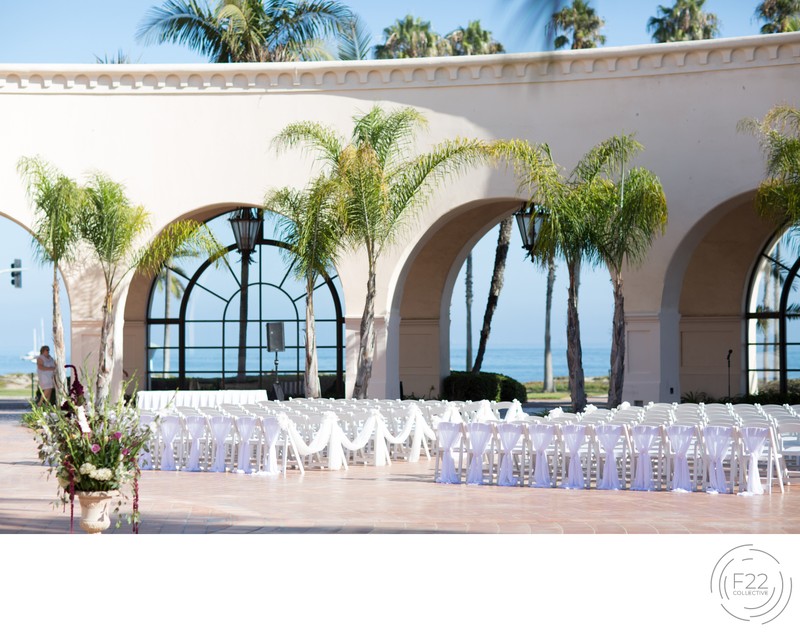 Convenience is really the name of the game for hotel weddings. Couples could easily choose to have some sort of small after-party at a hotel as many hotel bars stay open quite late. Another benefit to hotels is that they used to constantly handling large groups of people. This is a huge advantage as a hotel's staff typically is experienced in handling all of the needs of a large group. An example of this is that food is easily served and when served it is usually served on time and hot. Hotels typically have more than one ballroom to handle different size events.
Most hotels have some sort of courtyard that is often already decorated for an event such as a wedding ceremony. This means that a gazebo or altar is usually already a permanent structure on the property. Hotels also have their own chairs and linen again simplifying each couple's wedding day planning process.
A final consideration for many couples booking hotels for their wedding day is that hotels can be found at almost every price point. Hotels can be found for the cost-conscious couple to those couples wanting and willing to pay for the most exclusive event Sacramento has to offer. Giving so much convenience to couples it becomes clear why so many couples choose to plan their wedding event at a hotel. Below are just a couple of the many different hotels located in the Sacramento region at which we as photographers have enjoyed photographing.
The Kimpton Sawyer
The Kimpton Sawyer is one of Sacramento's newest boutique hotels. Centrally located at 500 J Street, Sacramento the Kimpton is unique in all that offers. Amenities include a fitness center, a Revival Bar & Lounge on the third-floor, pool/deck overlooking the Golden 1 Center, and beautiful indoor and outdoor spaces. These spaces include the ability to have wedding ceremonies on the rooftop as well as in one of their many indoor spaces. Wedding photography at the Kimpton Sawyer is a pleasure with its rooftop cityscapes as well as its modern interior design. To handle any size group, the hotel also allows couples group block rates. The Kimpton Sawyer is a hotel that stands out in Sacramento city.
The Citizen Hotel
The Citizen Hotel which was built in 1925 is located in downtown Sacramento at 926 J Street. Designed to mix history and luxury, the Citizen is distinctive in that no two rooms have the same decor. It's a timeless design with spectacular views of downtown that make the Citizen an exceptional location for photography. These city views can be seen from their Metropolitan Terrace. The perfect location for your reception or views can be enjoyed from the balcony of your intimate honeymoon suite. The Plaza Park Ballroom is highly recommended as the perfect place for your ceremony with its extraordinary architecture. All in all, The Citizen Hotel is an elegant, sophisticated location at which to hold your nuptials.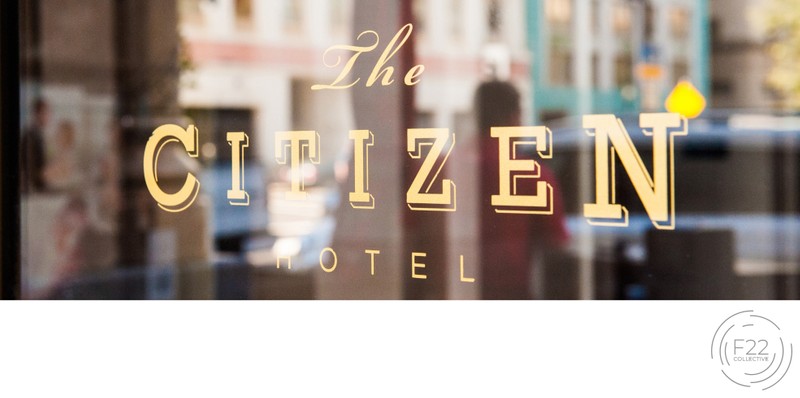 The Hyatt Regency
Located at 1209 L Street Sacramento the Hyatt Regency Sacramento is another of Sacramento's finest hotels. Offering many of the same amenities as the prior two hotels such as large ballrooms and outdoor balconies with views of the Capitol the Hyatt Regency does so in sophisticated, modern style. The Hyatt Regency offers both indoor and outdoor locations for your ceremony making this venue right for any weather.
Fort Sutter Hotel
Opening September 2020, Fort Sutter Hotel is the epitome of modern, urban luxury. Located in Midtown at 1308 28th Street, Sacramento, CA 95816, the hotel will display local artists' work throughout the lobby and guest rooms.
The Ryde Hotel
Something slightly different for those who are looking for a novel smaller experience. The Ryde Hotel located at 14340 Highway 160 Walnut Grove offers something different for wedding couples. Built on the banks of the Sacramento River this 1920's style venue offers an intimate location for its guest. Constructed at the height of prohibition The Ryde Hotel served as a Riverboat way station. It was also said to be a bordello, the basement level worked as a speakeasy offering illegal whiskey. Currently, The Ryde Hotel offers its wedding couples an intimate location with lush outdoor ceremony and reception site and cozy indoor space for cocktails. Hotel rooms while small are loaded with character and charm. The Ryde Hotel is a smaller wedding venue that is worth consideration.
Lions Gate Hotel
3410 Westover Street Sacramento, CA 95652
lionsgatesales@oceanicenterprises.com

(916) 640-0814
F22 Collective © 2022 - (916) 761-8666 Address: 165 Sierra View Drive, Colfax, CA 95713 info@f22collective.com Privacy Terms of Use