Sacramento Historic Wedding Venues
"There is never a time or place for true love. It happens accidentally,
in a heartbeat, in a single flashing, throbbing moment."
– Sarah Dessen
Another type of wedding venue for consideration in the Sacramento area is that of historic venues. Historic venues appeal to couples for a variety of different reasons ranging from the older aesthetic to the charm, and or the romance that one might feel in an older building. Couples who are particularly fond of the history of California might be interested in getting married in a historic venue.
Historic venues in Northern California range from buildings used during Gold Rush days to mansions built by the rich of the 1900s. As a photographer, historic venues offer a certain novel aesthetic to the setting and background of our images. Many historic buildings are rich in a variety of textures such as weathered brick, or the colors of darkly stained wood.
Historic sites can offer unique props such as vintage trucks, or mining tools from the turn of the century. Rooms in vintage buildings often have unique antiques such as dressers, beds, and mirrors. Interesting doorways and small rooms can be excellent for photography. Additionally, courtyards with well-established gardens are often adorned with wrought iron trellises and gates. Below is a partial list of a variety of different historical wedding venues that can be found in the Sacramento region all of which offer unique opportunities for couples to enjoy their wedding day in a nostalgic and romantic way.
White House Spirits

White House Spirits & Events is located at 130 Maple Street, in Auburn, CA, across from the courthouse, and is the perfect venue for your special day. With the historic charm of the Foothills combined with modern amenities, it has everything a couple could want. It is literally in the heart of Old Town. Can you think of a better place to get married?
| | | |
| --- | --- | --- |
| | | |
Auburn marks the site where gold was first discovered in Placer County and established in 1849. There is so much history to witness and experience walking around Old Town Auburn. Old Town Auburn enchants those that visit, even today. There are incredible award-winning restaurants, charismatic specialty shops, events year-round, all contained in a unique blend of historic charm. Old Town Auburn is not only famous for its part in the California gold rush days, but within the film industry, as well. There have been several movies filmed, in part, within the town of Auburn. For those that covet literature, Auburn, CA, is the small town where George and Lennie were raised in John Steinbeck's novel, Of Mice and Men.
The food and drink options are some of the best around. Truly a unique and fun experience. When will you visit Old Town Auburn? If you are engaged and getting married, this newly renovated historic venue is fully open and ready to start the Spring regional premium events. On Sunday, March 21, 2021, they will be hosting their first Wedding Showcase.
Considered Auburn's best event center, White House Spirit and Events is perfect for celebrations or business meetings. From bridal showers, bachelor/bachelorette parties, weddings, and rehearsals, birthdays, Quinceañeras, soirees, cocktail receptions, dinner & tea parties, celebrations including graduations, bar, and bat mitzvahs; along with any other event you can think of, including baptisms. White House Spirits and Events can accommodate large or intimate weddings, either indoors or outdoors or a combination of both. With original exposed beams, brick walls, and beautifully detailed copper ceilings, a view of the iconic Auburn courthouse – White House Spirits and Events encompasses the perfect backdrop to your special day. White House Spirits can accommodate up to 300 people, built by John White, a local blacksmith in 1906, as a family home and fully restored in 2020. This historic site offers four indoor rooms, including a large bar and five outdoor areas, from intimate patios to spacious covered decks.
This unique and historic property has come full circle. , One of the Sierra Foothills most outstanding and premier venues, White House Spirits and Events welcomes you to experience all it has to offer.
130 Maple Street, Auburn, CA 95603
info@whitehousespirits.com
(530) 537-2981


The Grand Island Mansion
The Grand Island Mansion is an absolutely stunning mansion located in Walnut Grove California. The Mansion which was completed in 1920 is a 4-story 24,000 sq. ft. 58 room estate Originally located on 865 acres. The mansion had many famous visitors during its history. Most notably President Franklin D Roosevelt and Greta Garbo had both stayed at the mansion at one time or another.
After being remodeled the Mansion began hosting weddings and events in the 1970s. With its authentic classical opulence, the mansion can make any event a spectacular affair. Brides will be treated with a classical dressing room that has a balcony overlooking its garden wedding site. Upon exiting the upstairs dressing rooms a spectacular staircase makes for an amazing introduction of the bride and is perhaps one of the most popular locations for romantic wedding day photography.
The Grand Island Mansion is perfect for accommodating any size wedding as it has the ability to host very large numbers of guests with a permanent tent and or a smaller-sized wedding in its intimate dining area. Along with its lavish garden in the front, the back of the mansion is perfect for dancing and cocktails. Wedding photography at the mansion can only be described as spectacular as the mansion is majestically situated between the riverfront and surrounded pear orchards.
The Empire Mine
The Empire Mine located in Grass Valley, California, was originally the home of William and Agnes Bourn who owned and operated the mine from 1877 through 1929. The mine is one of the biggest and most productive hard rock gold mines in California. The mine's property is adorned by many relics of the gold mining era as well as huge pine trees and lush gardens.
Ceremonies are usually held in front of the cottage which is impressively made from river stones and brick. This rustic impressive cottage adds to the old world charm of this venue. Your guests will gently be reminded of the importance gold played in the early history of California. Photography at this site becomes something truly special as beneath the wedding site a waterfall leads to a man-made pond. Interesting locations abound for romantic images. The Empire gold mine is beautifully landscaped and on a warm summer's day provides the ideal location for an outdoor wedding ceremony.
Tsakopoulos Library Galleria
Tsakopoulos Library Galleria opened in 1992 to host events and weddings in Sacramento. Located at 828 I Street in Sacramento, the Tsakopoulos Library Galleria Is one of Sacramento's downtown premier wedding sites and is listed in the National Register of Historic Places. With the ability to host any size wedding the Library Galleria is close to parking and light rail.
Weddings are typically held on the main floor in the center hall with the reception also on the main floor. This main hall of the Library Galleria's is impressive in size with large windows and a high ceiling which allows you to see the multiple floors that surround the main hall. A second-story balcony also surrounds this hall and is available to use in photography. Having hosted numerous weddings over the years the Library Galleria is experienced to handle your every need.
Old Sugar Mill
The Old Sugar Mill located in Clarksburg, CA, is another one of our favorite photography locations. With an abundance of weathered brick and vintage glass window panes, the Old Sugar Mill provides an amazing backdrop for wedding photography.
Originally a sugar factory from 1935 to 1993 the mill currently hosts a multitude of wine tasting facilities for its weekday visitors. Brides typically dress in a small neat building in front of the property before they enter the mill for what is an unforgettable photographic experience. The mill offers locations for wedding ceremonies inside or outside all of which embody a rustic historical esthetic. Receptions at the mill can be truly spectacular with amazing lighting and plenty of room for guests to dance and party.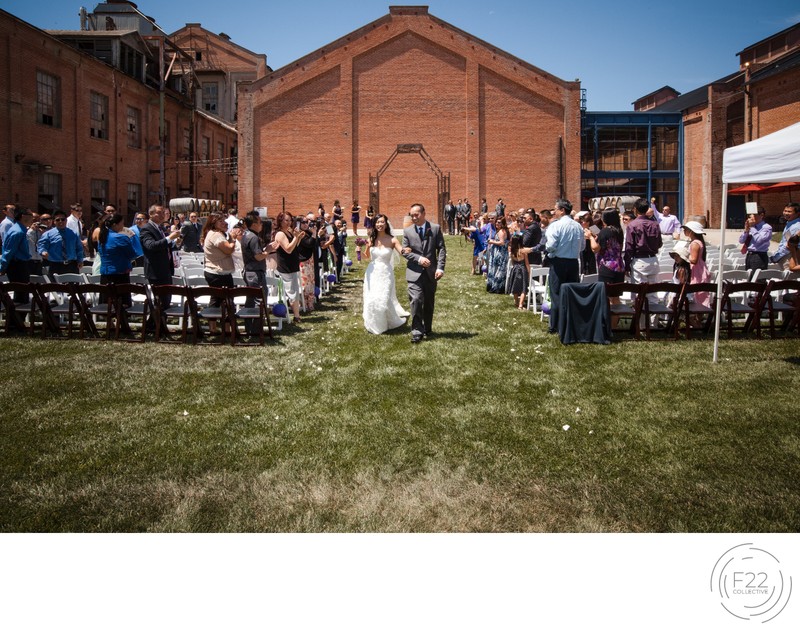 Miner's Foundry Cultural Center
The Miner's Foundry Cultural Center located in Nevada City is another reminder of the importance of gold in California's history. The Miner's Foundry was opened in 1855 to support the gold industry which had become so important to Nevada City. The Miner's Foundry is a historical landmark that currently hosts weddings and events and has become one of our most popular locations in Nevada City at which to photograph weddings.
Nevada City itself exudes so much history with its quirky imperfect buildings which makes it perfect for a brief wedding day romantic photography session. The Miner's Foundry itself is made of brick and stone buildings that show a rough unfinished aesthetic that has a romantic charm. The Miner's Foundry and Nevada City with its fall colors in autumn is a location that definitely can not be matched. A venue worth considering for a wedding of a smaller size.
Historic Hotel Woodland
436 Main St, Woodland, CA 95695 (530) 662-5463
Sutter Club
1220 9th Street Sacramento, CA 95814
(916) 596-6300
F22 Collective © 2022 - (916) 761-8666 Address: 165 Sierra View Drive, Colfax, CA 95713 info@f22collective.com Privacy Terms of Use