Sacramento Farm and Barn Weddings
Farm and Barn Weddings
There is a multitude of reasons why couples might choose a farm or barn wedding site for their special day. The trend to choose farm or barn venues really took off somewhere around 2008 and has continued to be an extremely popular option for couples. This is mainly because farm and barn venues offers couples such unique opportunities for their wedding day.
These wedding venues tend to showcase wonderful working landscapes that highlight whatever crop is produced on-site and usually includes multiple acreage. In the Sacramento area, this could be almost anything from almonds trees to rice fields. Along with this beautiful landscape comes a rich history associated with these farms and barns.
While most people consider these types of venues to be rustic, whether they are rustic or elegant often depends on how the site is decorated. Swaths of shear material draped and other fabrics can help to make a rustic site look more elegant. This is one-way couples show their personal taste in decor. Barn and farm weddings tend to have a more welcoming aesthetic quality towards them.
Unpretentious if you will, guests feel comfortable in more casual clothes. Flats are the shoe style of choice at this type of relaxed wedding. With this more relaxed atmosphere comes an atmosphere which promotes fun. These venues tend to be larger in size there's plenty of room for guests. Guests often have room to play a variety of different lawn games while attending the festivities. Lastly, it goes without saying that pictures from your wedding day will highlight a variety of different locations, textures, colors, and scenery. Some of our favorite venues are listed below but are by no means a complete list of all that's available in the Sacramento region.
The Barn at Second Wind
The Barn at Second Wind, romantic, elegant and chic, it is conveniently located just south of downtown Sacramento. and is privately owned, so reach out for a tour, they are appointment only. Fields of wildflowers and grasses compliment the barn for amazing photo opportunities Six acres of excellence, featuring a gorgeous rustic barn, oak trees, an outdoor fire pit, twinkle lights and bocce ball court.
The Barn at Second Wind
8601 River Rd. Sacramento, CA 95832
(530) 409-1749


Bear Flag Farm
Bear Flag Farm is a private, luxurious, rustic estate located in Winters that prides itself on its ability to re-imagine itself for each of its clients giving you a most unique wedding experience. With amazing lavender fields in which to be photographed, it is a venue that is unmatched in its excellence. This is one of the most beautiful wedding venues in the area. Honestly, with the option to bring in a Ferris wheel to make your wedding over-the-top unique, what more could a couple ask for?
Bear Flag Farm
Stevenson Bridge Rd, Winters, CA 95694
(530) 753-9494


Delta Diamond Farm Event Center
Delta Diamond Farm located in is Isleton is a spectacular venue. Located on a 25-acre estate stands its magnificent Victorian-style home. Ceremonies can be located in a number of different locations but very popular is their English Garden Courtyard. This courtyard can hold either the ceremony or cocktail hour following the ceremony. Also located on the property is an immense barn that couples can have access to for the men's dressing area or to use in some spectacular photography. There's even a vintage-looking replica of an old Richfield gas station on the property that houses the men and women's restroom. The Delta Diamond Farm and Event Center is definitely an extravagant venue.
Delta Diamond Farm
15175 California Hwy 160, Isleton, Ca 95641
(916) 777-5800


The Flower Farm Inn
For couples seeking a venue closer to the Granite Bay, Roseville, and Loomis area, The Flower Farm Inn is a wonderful option. The Flower Farm Inn is a smaller venue located in Loomis and is another venue that offers bed and breakfast services for its couples. A number of vintage buildings are on-site for your guests to enjoy. These buildings create wonderful photo opportunities as well as the beautiful grounds on which are yours to stroll. Guests who visit The Flower Farm Inn will find a beautiful ceremony site as well as a spacious reception barn that houses modern facilities.
The Flower Farm Inn
9280 Horseshoe Bar Rd, Loomis, CA 95650
(916) 660-5537
Fausel Ranch
Fausel Ranch located in El Dorado County is a magical wedding venue. Owned and operated by the Fausel family who manages this working farm that grows cherries and sweet peaches. Their ranch highlights and old charming barn, gazebo, iron entrance, and lovely bridal room. On the grounds, guests will find large pine trees and a creek which adds to making this venue a magical place.
Fausel Ranch
4881 Hanks Exchange Rd, Placerville, CA 95667
(530) 622-4390
The Maples Wedding and Event Center
The Maples Woodland is located in Woodland California is an outdoor classic country estate that showcases a vintage 1930s ranch house, rich green landscape, and trees that are more than a century old. Offering a mix of its newly remodeled buildings and vintage barns, along with a pool, outdoor fireplace, and cocktail area The Maples has something for everyone. Couples will be pleased to know that the Maples now can extend bed and breakfast services for couples that wish to stay on site. From getting ready in locations styled for both the men and the women, to the end of your ceremony dancing under the stars The Maples has left nothing to chance. Couples will not be disappointed.
The Maples Woodland
40162 Best Ranch Rd, Woodland, CA 95776
(530) 379-3681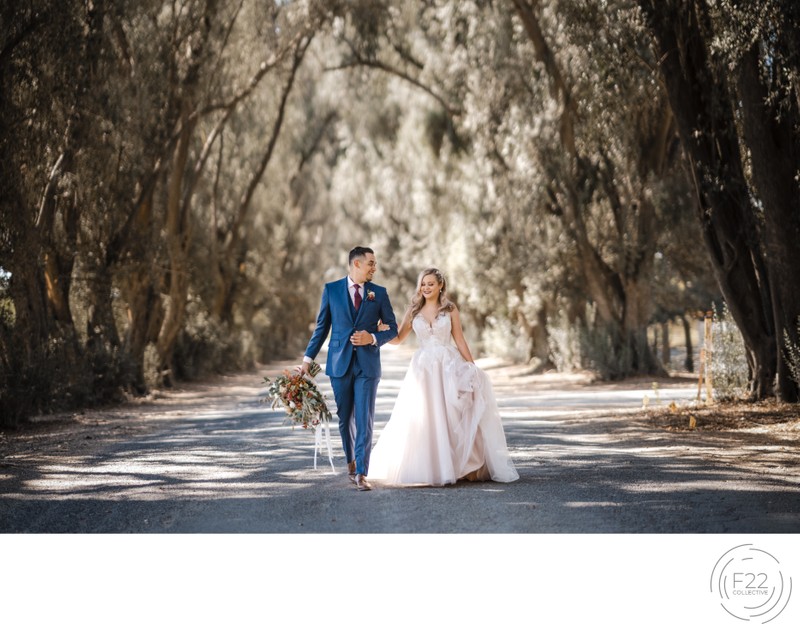 The few farm and barn venues mentioned above are just a sampling of the many favorite venues at which we photograph in the Sacramento area. Couples wishing to have a rustic farm or barn wedding should remember that there are many of these types of venues throughout the Sacramento region. These venues come in different sizes and can meet a variety of different budgets. Farm or barn venues are often a blank canvas on which you can add your own personal touches to suit your personal style. Interview wisely, schedule a site tour, and ask tough questions. We recommend these businesses but can offer no guarantee on performance, operation or practices.
F22 Collective © 2022 - (916) 761-8666 Address: 165 Sierra View Drive, Colfax, CA 95713 info@f22collective.com Privacy Terms of Use