Bed and Breakfast Weddings
By definition, a bed-and-breakfast is a smaller facility where the owner sees the clients who stay overnight as their own personal guest. Sacramento offers a number of "Bed and Breakfast" wedding venues which offer distinct advantages to wedding couples.
The most obvious benefit to a bed and breakfast is that these venues allow the bride or the groom to spend the night before, or after, or both at the venue. This allows the couples a more relaxed wedding day without the hustle and bustle of traveling to and from their event and the personal attention that only a smaller facility can provide.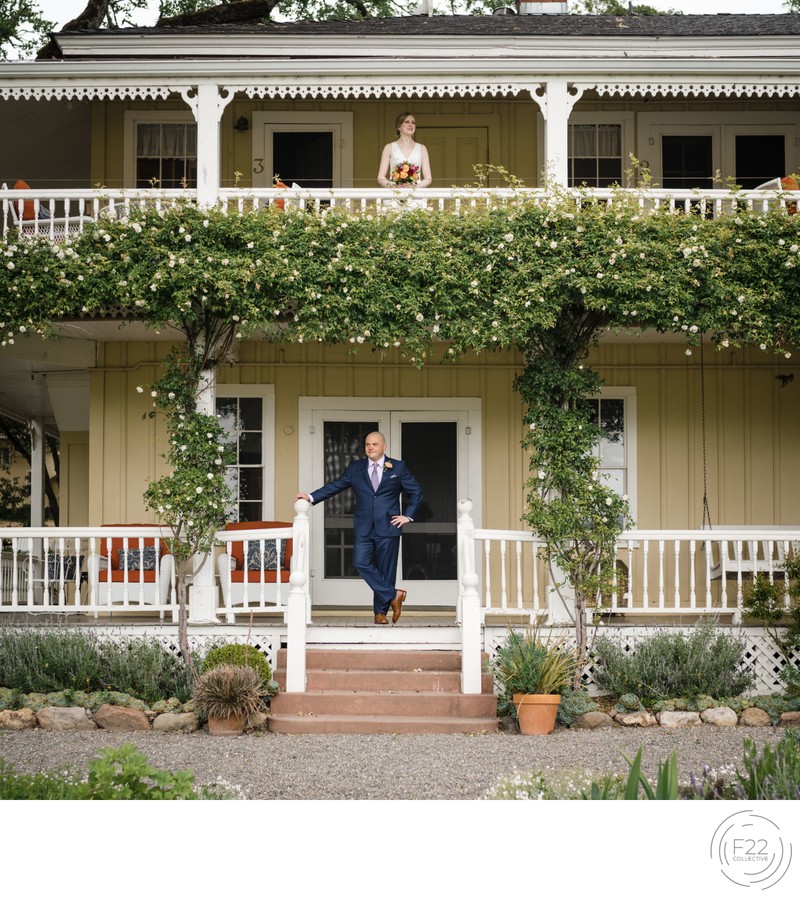 The Inn at Park Winters
Perhaps one of our favorite bed and breakfast venues in the Sacramento at which to photograph would have to be the Inn at Park Winters. Without a doubt, the Inn at Park Winters offers it's guest a wide array of amenities for their stay as well as for their wedding event.
Park Winters is a spectacular bed and breakfast and wedding event venue nestled into the farmland adjacent to Sacramento. Located on the property are unparalleled estate features such as their, windmill water tower suite, soothing gardens, classic white barn, modern pool/hot tub, and dramatic views of the countryside. With the ability to plan your event inside or outside on the spectacular grounds you are safe to plan your wedding for any time of the year.
Romantic scenes abound on the property which makes the inn a joy when photographing. Brides and grooms enjoy elegantly styled decor in any of the rooms which makes getting dressed on your wedding day even more special. Wedding guests will be impressed by the privacy and uncrowded country feel of the extraordinary estate.
27850 Co Rd 26, Winters, CA 95694
(530) 669-3692


The Sterling Hotel
The Sterling Hotel located at 1300 H Street, Sacramento CA 95814 is included as a Bed and Breakfast in our list as its an elegant boutique hotel and offers the intimate feel and personalized service of a much smaller inn. Yet the Sterling has the ability to host up to 200 guests and is located near enough to midtown that your guest will have plenty of options of things to do and places to stay if they are coming in from out of town.
With an outdoor space and indoor ballroom for your guest, your visitors will be impressed by this remarkable historic Victorian mansion. The Sterling's suites are uniquely styled and offer Jacuzzi tubs for enjoyment which makes waking up on your marriage day that much, more enjoyable.
1300 H St, Sacramento, CA 95814
(855) 414-0526
Monte Verde Inn
Located in the foothills of Forest Hill at 18841 Foresthill Rd, Foresthill, CA 95631 the Monte Verde Inn is a private Georgian estate. This bed and breakfast is perfect for an intimate marriage ceremony. With beautiful indoor or outdoor mountain hillside spaces, the Monte Verde Inn offers a location that is cooler in the summer months due to the altitude and available shade. While parking is available at this venue many couples choose to shuttle their guest to and from the venue for convenience.
Entering the majestic grounds through impressive gates, couples pass towards the estate down the long majestic drive. While the wedding grounds are smaller than many venues, the grounds are carefully maintained and comforting in the intimate ways in which guests are able to enjoy this country estate. It's a joy to photograph at the Monte Verde Inn.
18841 Foresthill Road, Foresthill, CA
530-888-8123
The Ranch at Stoney Creek

Originally a miners camp, this amazing wedding venue is located in the Sierra foothills in Somerset, CA and is the perfect location for a weekend get-a-way wedding. The property is a diverse 65 acres of pine, oak and cedar trees nestled with moss covered rock formations and incredible serene meadows, Surrounded on all sides by 47 wineries and vineyards, this bed and breakfast is a must-see if you are planning your wedding.
8320 Stoney Creek Road Somerset, CA 95684
(949) 289-6267
Interview wisely and ask tough questions. We recommend these businesses but can offer no guarantee on performance, operation, policies, or practices.
F22 Collective © 2022 - (916) 761-8666 Address: 165 Sierra View Drive, Colfax, CA 95713 info@f22collective.com Privacy Terms of Use